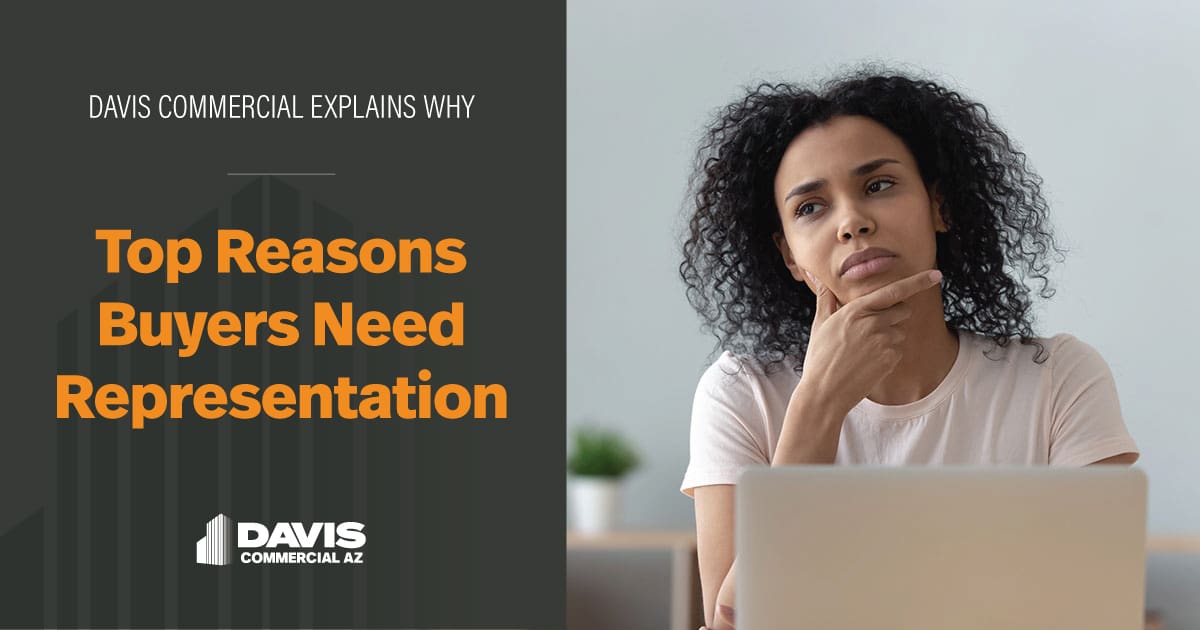 With the power of the Internet and an influx of real estate technology at your fingertips, you may be asking yourself, why do I need to hire a buyer representative? While buyers can surely benefit from consumer-facing real estate apps and national websites to get a jump start on the process, they do not replace the expertise of a top-notch buyer rep who knows local market standards, can hone your property parameters, and help manage the search process.
Experienced buyer reps understand your market. They'll advocate on your behalf throughout negotiations and help you navigate a beneficial property purchase for your business. In addition to ensuring you get the best deal possible, they have access to advanced tools and connections that you don't.
Fueled by low lending rates and inflationary pressures, demand for commercial properties has increased over the last year in secondary markets, like Phoenix. With the limited supply of inventory, many buyers may feel frustrated finding a property in challenged markets. Quality buyer reps are well-connected in the community and have a pulse on the current market landscape. Through relationships, they often know of off-market listings or properties coming soon that meet your criteria.
Think of your non-negotiables for your ideal building.
Do you have a location in mind?
Do you prefer a fee simple property or an office condo?
How important is visibility and easy accessibility for your clients or patients?
Is it important to have restaurants, medical professionals, shopping amenities, etc. near by?
What is your price point?
These are just a few of the questions you and your buyer rep will evaluate as you narrow down property parameters. However, while it's great to know what you want, it's also important to stay open-minded as your wants or needs may change during discussions with your buyer rep. I shared my own personal purchase experience in this blog.
This chart below is a great example of the criteria you and your buyer rep may review together as you're narrowing down your property parameters.
In addition to helping you locate the perfect property for your business, experienced buyer reps are crucial in closing the deal.
Not only will they guide you through negotiations and manage the closing timeline, they also work with the seller's rep, title office, lender and others to ensure a successful closing. This essentially saves you time, money and helps you avoid costly situations down the line that could result in tremendous stress. Remember, without representation, the "savings" goes into the listing broker's pocket. The listing broker protects the seller's interest: not yours.
For more helpful information on buying commercial real estate, look for Simply Own It, the American Dream, coming soon.
---
At Davis Commercial AZ, we are committed to helping our clients realize their commercial real estate vision. With more than 30 years of experience, we ensure a premier standard of services in the Phoenix metroplex and surrounding areas. Formerly known as Andrea Davis CRE, Davis Commercial AZ was formed by Andrea Davis, a respected industry leader whose breadth of knowledge stretches from developers to landlords to buyer/tenant representation and investments. Davis has won numerous awards and Ranking Arizona regularly places Davis Commercial AZ in the top 10 category for Office Brokerage. As a regular educational blogger for the BrokerList, Twitter's top commercial influencers acknowledges Davis as a commercial real estate thought leader. Her book, SimpLEASEity™, neutralizes leasing fears and is the first in a series of commercial real estate guidebooks. Her next book, Simply Own It, the American Dream, is scheduled to be released this year.