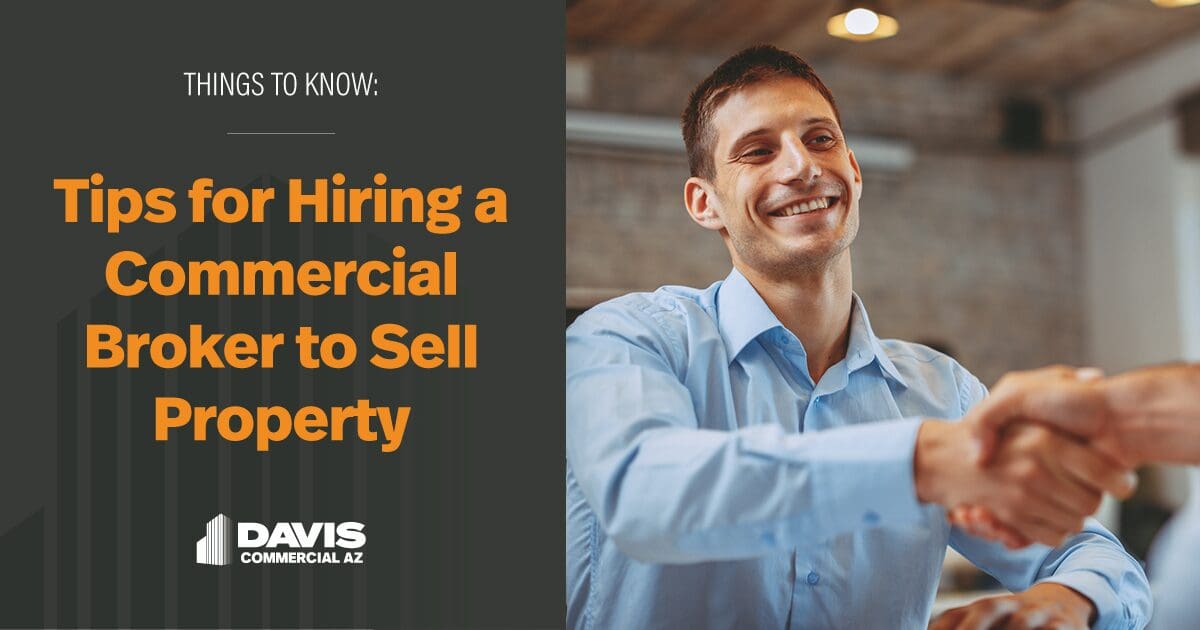 Selecting the right commercial broker to sell a commercial property is one of the most important decisions you'll make before signing on the dotted line. The real estate industry is full of brokers, and surprise! They aren't all are created equal. Here are tips to hire a commercial broker that best suits your needs.
1. The Interview
No matter how long you've owned the property you're selling, you're putting a lot of trust in a broker to make sure they sell the property for its full current value. To evaluate which broker is right for the job, interview several brokers and weigh their experience.
Consider asking them these questions:
How many transactions have you done?
Are you familiar with selling and marketing this type of commercial property?
Does your company use a professional photographer?
What marketing strategy do you envision for my particular property?

 

If the property doesn't sell right away, what is the next phase of marketing?
Who are your references? (Be sure to Google them)
To really understand how a broker will shine above the others, ask them:
What features on my property will be highlighted to interest potential buyers? (Features may include Class A building, stellar location, below market value, etc.)
How does your marketing differ from other brokers?
How long does it take from signing the listing agreement to having the property officially listed on all commercial platforms?
When do you think the property will be under contract and subsequently close?
Most importantly, hire a commercial broker, not a residential broker.
2. Marketing Matters
Marketing is important in the sale of your property because it's an effective way to reach numerous potential buyers. Once you've selected the broker you'd like to work with, work with them to understand their marketing strategy and how they plan to promote the initial listing. Some questions you may consider asking include:
What platform(s) do you post the listing on and why are they the best?
How do you utilize social media platforms?
Will the listing go live on all platforms the same day?
Do you send out a notice from your personalized email blasts list?
3. Manage Expectations
Before listing your property, the broker you select should be able to advise you on whether it's a buyer's market or a seller's market. Knowing this helps you price the property competitively and ultimately helps you understand who has the upper hand in negotiations. In normal markets commercial properties often take 6-12 months to sell. In hot markets, properties can sell immediately, so be prepared to move.
Note: if you need to sell quickly, don't be afraid to price your building below competitive market prices. This will get buyers attention! If there are multiple offers, consider accepting a cash offer versus financing since financing generally involves more time to close.
4. Be Mindful of Capital Gains Tax
Assuming your property has appreciated in value, you may be subject to capital gains tax or other tax ramifications. If your intent is to sell the property and buy another commercial property, you may consider a 1031 tax deferred exchange. In a 1031 exchange, investors can trade a piece of appreciated investment property for another piece of like-kind property by following several IRS-defined procedures and timelines. A knowledgeable buyer rep can walk you through the process however, prior to engaging in any kind of activity, schedule time with your CPA to discuss the tax implications on the sale of your commercial property and what may be best for you. You can read more about 1031 Exchanges in my blog here.
5. Is it Time for a Price Reduction?
Before pricing the commercial property, a buyer representative should discuss the comparables or "comps" with you along with the suggested list price. When an aggressive approach is taken, you'll know quickly if the property is overpriced. There will be no active interest in the property. If there are zero showings in the first two weeks, the building is probably priced too high. Another way to know if your property is priced too high is when offers consistently come in considerably below the asking price. An overpriced property gets stale like bread. Potential buyers see the time the property has been listed and scroll past it without consideration. Avoid this from happening by considering a price reduction before your listing becomes moldy.
---
About Andrea Davis
Andrea Davis, CCIM, has practiced commercial real estate for over twenty years. Davis's breadth of knowledge stretches from developers to landlords to buyer/tenant representation and investments. Within the commercial real estate industry, Davis has won numerous awards. The Phoenix Business Journal ranked Andrea Davis CRE in the top 10 of Ranking Arizona for the category of Office Brokerage. Her book, SimpLEASEity™, focuses on leasing and is the first in a series of commercial real estate guidebooks. Her next book, Simply Own It, the American Dream, is forthcoming this year.