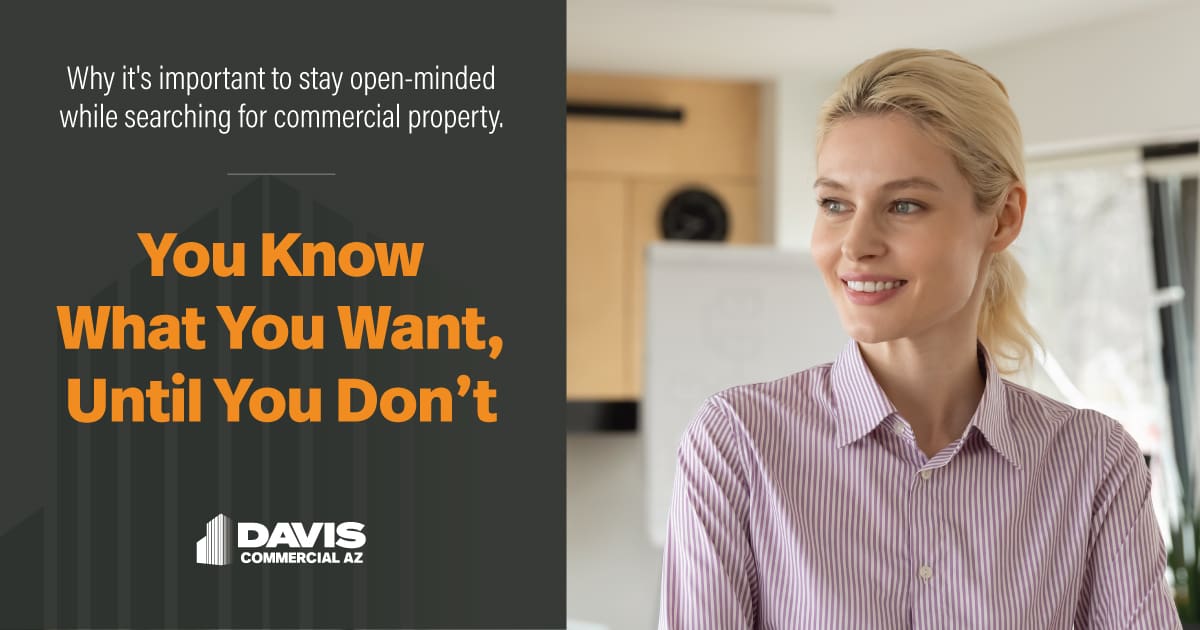 Plan as you might, a business owner never knows when they will find that perfect fit for their business. Take me for example: I found my dream office space while attending a listing presentation with a property owner. I fell in love with a clean yet outdated 2,050 square foot tri-plex office condo built in the 1980's and immediately saw potential for what I believe will be the coolest office ever. Moral of the story? Stay open-minded and consider all possibilities. 
It's normal for you to have a wish list for your dream property. You may even have an idea of what you'd like it to look like. However, make sure you're considering all factors. Perhaps you're convinced you need a Class A office to serve your high-end client base. Have you considered Class B offices which could cost less per square foot, offer more parking than a Class A office and still have the finishes you're looking for?
Understanding where your clients are traveling from is another key factor to keep in mind as property search parameters are defined. If your company doesn't need visibility in a trendy area of town, there's no reason to pay a higher price tag. In addition, the money you save on a higher mortgage could be used for a new employee, marketing, advertising, or in other areas where the budget is slim. 
Your buyer rep will work with you to consider your parameters and work to create a custom list of potential properties to meet your business goals. Ideally the list should include building name and location, building size and age, property size and zoning, parking ratio, asking price, expenses (property taxes, HOA fees or maintenance costs). If there is a tenant in place, the list will include the tenant's rental income and financials. 
Once the property list is reviewed and discussed with your buyer rep, your rep will coordinate with the seller's brokers to schedule tours. Upon scheduling, an experienced rep will create a summary which includes a map of the properties, a time schedule, brochures and floor plans for each suite on the tour. This summary is perfect for taking notes during the tour. 
Whether you're just thinking of purchasing property or you've already started the process, I'll leave you with this: you know what you want until you don't. The right property for you and your business is out there. Just don't be afraid to stay open-minded and explore different options, like I did. 
For more helpful information on buying commercial real estate, look for Simply Own It, the American Dream, coming soon.
---
About Andrea Davis
Andrea Davis, CCIM, has practiced commercial real estate for over twenty years. Davis's breadth of knowledge stretches from developers to landlords to buyer/tenant representation and investments. Within the commercial real estate industry, Davis has won numerous awards. The Phoenix Business Journal ranked Andrea Davis CRE in the top 10 of Ranking Arizona for the category of Office Brokerage. Her book, SimpLEASEity™, focuses on leasing and is the first in a series of commercial real estate guidebooks. Her next book, Simply Own It, the American Dream, is forthcoming this year.