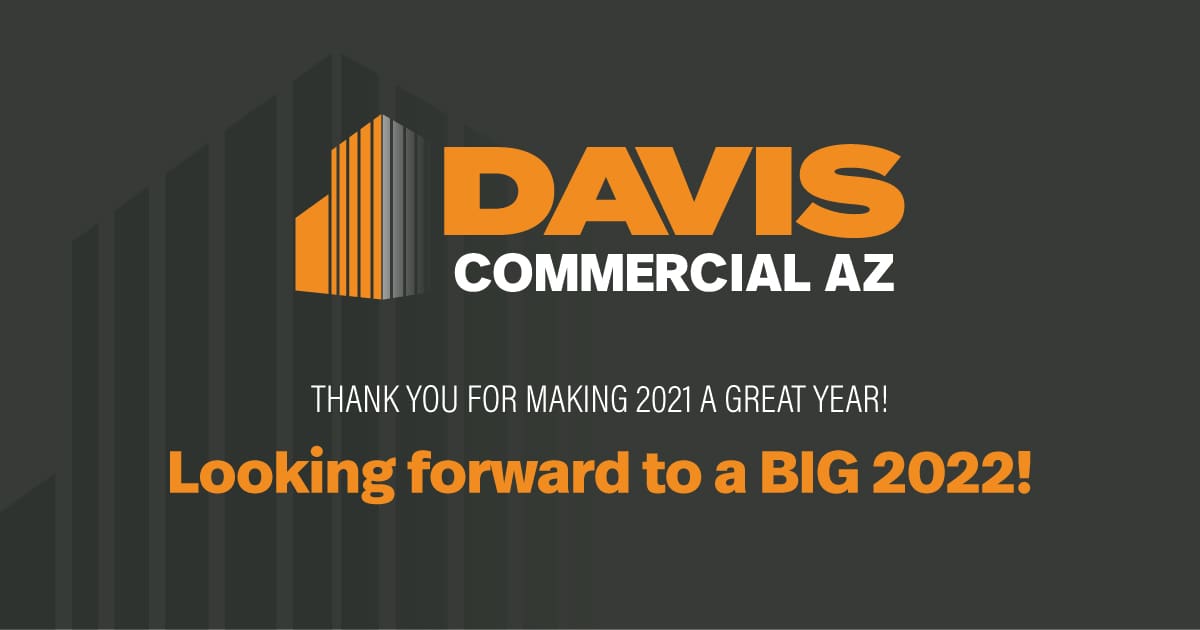 Happy New Year! 2021 was a notable year for Andrea Davis CRE. The expansion of the team and client base inspired a rebrand and Davis Commercial AZ emerged from the ashes. The increased business volume compelled Andrea to open an office in the Scottsdale Airpark. She discovered firsthand what her clients go through when they purchase a commercial building and remodel. It was a humbling experience and is not for the faint of heart.
Thank you to our loyal/allegiant clients who put their trust in us repeatedly throughout the year. Our team closed over 50 transactions totaling over 300,000 square feet. The most notable transaction — a redevelopment deal in Old Town Scottsdale, The Venue — closed after two years in escrow. In addition, we conducted a variety of other deals throughout the Valley and our expertise expanded to out-of-state locations like Nevada, Colorado, Oregon, Illinois, New Hampshire, and Tennessee.
Arizona continues to be a hotspot for out-of-state companies and Davis Commercial helped enthusiastic businesses relocate to the Valley from major cities like Seattle, Portland, and Chicago. To support new client needs, we added two brokers to the Davis Commercial AZ team and anticipate continued steady growth in 2022.
Davis Commercial AZ was once again ranked as one of the Top 10 Office Brokers by Ranking AZ. We want to give a big thank you to our patrons for their votes and helping our company flourish. Additionally, Davis gained recognition as a regular blogger on the BrokerList and as a CRE "person of interest" by Twitter.
With 2021 now behind us, you may be wondering what to expect from 2022's commercial real estate market. If you're planning to purchase property, be sure to plan ahead and understand it may take a full year before you acquire. Inventory is slim to nil in all sectors and demand for property has continued to increase. On top of that, labor shortages are currently weighing on construction supplies. As supply chain challenges continue, the weirdest, smallest details are holding up construction projects so just be patient.
If you're planning to lease new space in 2022, understand that rent prices may not be what they were a year ago. Rent increases are expected to continue this year for warehouse, retail and office space. Planning ahead before you relocate is also crucial here and be sure to give yourself at least 6 months and maybe more if you need tenant improvements.
Despite current challenges, the commercial real estate outlook for 2022 is still bright. With cautious optimism, there will be new opportunities in urban and suburban markets with Sun Belt metropolitan areas like Phoenix, Miami and Austin leading the way.
Davis Commercial AZ remains optimistic about new opportunities in all industry sectors for the new year. Whether you plan to lease, purchase, sell, or invest in commercial property this year, count on our team to certify your goals are met. Rest assured; we have your back.
Let us help you embody your commercial real estate vision in 2022!
---
About Davis Commercial AZ

At Davis Commercial AZ, we are committed to helping our clients realize their commercial real estate vision. With more than 30 years of experience, we ensure a premier standard of services in the Phoenix metroplex and surrounding areas. Formerly known as Andrea Davis CRE, Davis Commercial AZ was formed by Andrea Davis, a respected industry leader whose breadth of knowledge stretches from developers to landlords to buyer/tenant representation and investments. Davis has won numerous awards and Ranking Arizona regularly places Davis Commercial AZ in the top 10 category for Office Brokerage. As a regular educational blogger for the BrokerList, Twitter's top commercial influencers acknowledges Davis as a commercial real estate thought leader. Her book, SimpLEASEity™, neutralizes leasing fears and is the first in a series of commercial real estate guidebooks. Her next book, Simply Own It, the American Dream, is scheduled to be released this year.