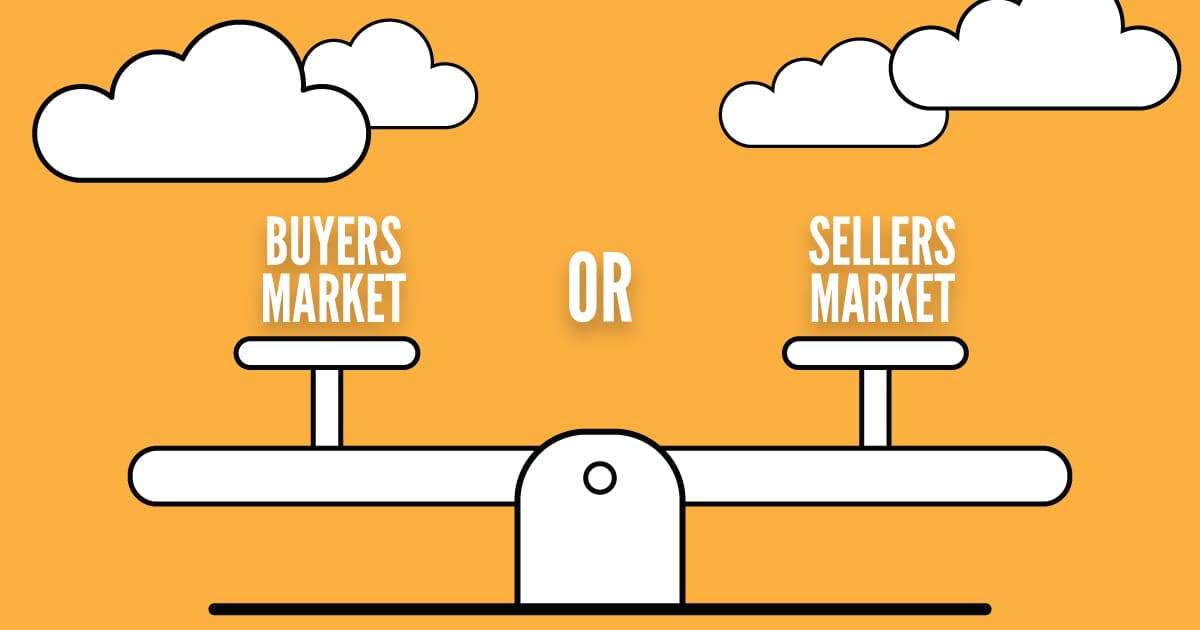 Market conditions are driven by complex occurrences that happen every day. Examples include global and local economic changes such as steel shortages, demographic shifts due to the pandemic, interest rate changes, urbanization trends, and more. As a business owner, it's important to note that these changes often come out of nowhere like COVID-19 and each market can be affected differently. Currently large markets like NYC, LA, Chicago and San Francisco are struggling to manage large vacancies while states like Arizona, Florida, Tennessee and Texas are challenged with unparalleled migration of population and businesses.
An experienced broker who has lived through the ebb and flow of a few decades can help guide you through changes in the market and advise you on whether it is a seller's market or a buyer's market. I've put together a few tips for buyers and sellers to help navigate the fluctuations within the real estate market.
Before we dive in, let's define "buyer's market" and "seller's market." A buyer's market occurs when supply exceeds demand like is happening in larger, dense cosmopolitan cities such as New York, San Francisco and Chicago. This will give the buyer leverage over the seller because there is an abundance of like product on the market.
A seller's market is the reverse of that and arises when demand exceeds supply. Since inventory is low, sellers can raise their asking price and buyers rarely have the power to negotiate. We are witnessing a seller's market in many secondary cities such as Phoenix, Denver and Austin, as people move out of gateway cities mentioned above.
Tips for Sellers in a Buyer's Market
Make Time for Repairs

With many properties on the market, you'll find that buyers will be pickier. Make your property stand out from the rest by making any necessary repairs and adding attractive enhancements.

Price Your Property Competitively

Work with your broker to survey what other similar properties are selling for. Depending on what you learn, you'll want to consider an asking price that is either on par with or lower than other comparable properties in the area.
Tips for Buyer's in a Seller's Market
Act Fast

When inventory is at a low, there's no time to sit on a decision. In fact, you may find that the property is no longer available by the time you make an offer. Act fast and don't let your dream property slip away from you. Here are a few things you can do to help you during this time:

Have a letter from your lender confirming proof of funds.
Put up a sizable earnest money deposit so the seller knows you are serious. This should be fully refundable during your due diligence period.
Shorten your due diligence period as much as possible without compromising getting the necessary inspection reports such as an appraisal, a Phase I, an ALTA survey.
Reduce the closing period.

Be Patient

It's not unusual for buyers to get frustrated during a seller's market. Remember to lean on your broker and their expertise! Inexperienced buyers can get caught up in bidding wars and often offer more money than the property is worth or go outside their budget in order to close the deal. That's never a smart idea. Experienced brokers know what product is coming on the market and how to secure the deal for you if at all possible.
Market conditions are a science and when buying or selling property, it is essential to know where the market stands to negotiate your best deal. No matter if you're the buyer or the seller in the equation, don't forget your broker has your best interest in mind and will be there to lead you through it all every step of the way.
For more helpful information on buying commercial real estate, look for Simply Own It, the American Dream, coming soon.
---
About Andrea Davis
Andrea Davis, CCIM, has practiced commercial real estate for over twenty years. Davis's breadth of knowledge stretches from developers to landlords to buyer/tenant representation and investments. Within the commercial real estate industry, Davis has won numerous awards. The Phoenix Business Journal ranked Andrea Davis CRE in the top 10 of Ranking Arizona for the category of Office Brokerage. Her book, SimpLEASEity™, focuses on leasing and is the first in a series of commercial real estate guidebooks. Her next book, Simply Own It, the American Dream, is forthcoming this year.