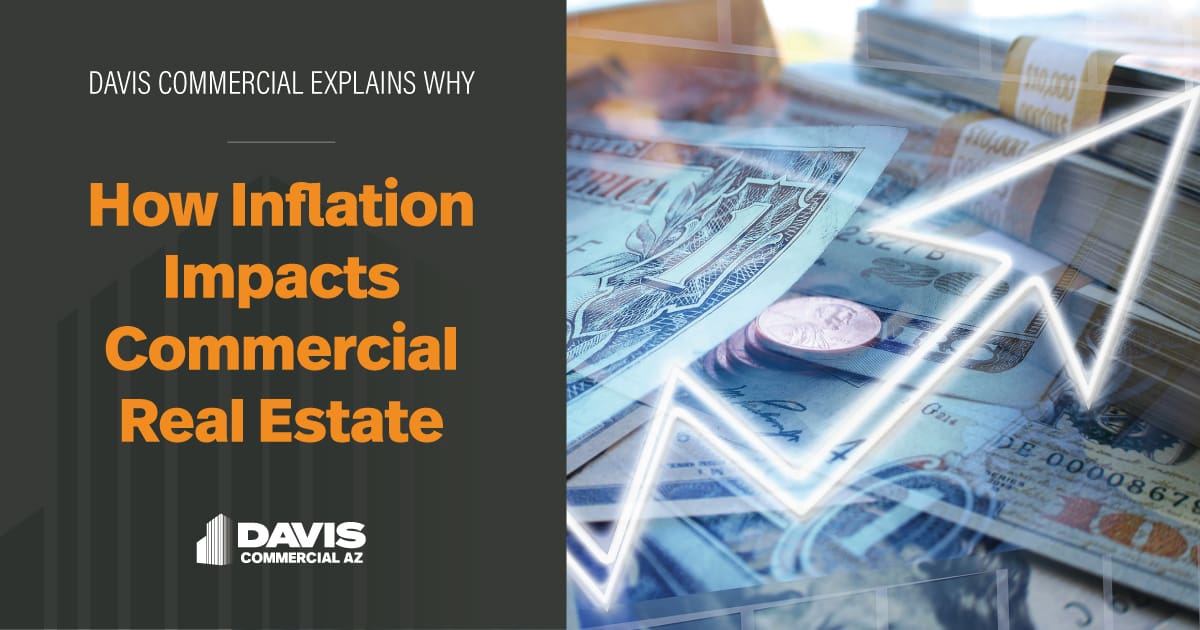 As the economy rebounds from the pandemic-induced recession, it's very apparent that prices across all goods and services are rising rapidly. And with inflation at a 40-year high, it's understandable to feel anxious about the future. In fact, the Consumer Price Index (CPI) climbed from 2.5% to nearly 8% in just the last year, the largest inflationary jump the U.S. has seen since 1982. Fortunately, for those invested in commercial real estate assets, inflation can actually be a good thing. Here's why.
While inflation can hurt intangible investments, it can provide a unique hedge for well-diversified investors. Property owners often raise rents along with rising inflation at the end of a lease term and some landlords may choose to offer shorter term leases for this reason. Or will only renew at a "market rate" to take advantage of possible higher rates. Increased revenue result in elevated property values while operating expenses stay relatively stable. If a tenant disagrees with the increased rate, landlords hold the right to remove them. Although, while lease terms are common across all asset classes, certain property types and locations are better positioned for rising prices.
With interest rates historically low, borrowers might consider refinancing and locking in long term debt at a low rate, depending on the property being financed, credit worthiness and other factors. The current environment is favorable for investors as interest rates are sliding upward as the economy gets back to pre-pandemic levels. Combining increased cash flow with the low cost of capital enhances returns.
New construction costs follow inflation. As prices rise for labor, steel, and lumber, the value for newly constructed real estate assets increases. Additionally, building material and labor shortages have resulted in construction delays across all asset classes. High demand plus limited supply contribute to the appreciation of commercial assets, which is positive for investors.
How long will this all last? Just like it's been difficult to determine the length of the pandemic fallout, it's also a challenge to forecast how long the current economic conditions will prevail. For investors who currently hold commercial real estate, it is a favorable time to sell as prices rise and cap rates condense. For investors considering adding commercial real estate to their portfolios, the current economy may provide an opportunity based on the buyer's financial expectations and risk tolerance.
---
About Andrea Davis
At Davis Commercial AZ, we are committed to helping our clients realize their commercial real estate vision. With more than 30 years of experience, we ensure a premier standard of services in the Phoenix metroplex and surrounding areas. Formerly known as Andrea Davis CRE, Davis Commercial AZ was formed by Andrea Davis, a respected industry leader whose breadth of knowledge stretches from developers to landlords to buyer/tenant representation and investments. Davis has won numerous awards and Ranking Arizona regularly places Davis Commercial AZ in the top 10 category for Office Brokerage. As a regular educational blogger for the BrokerList, Twitter's top commercial influencers acknowledges Davis as a commercial real estate thought leader. Her book, SimpLEASEity™, neutralizes leasing fears and is the first in a series of commercial real estate guidebooks. Her next book, Simply Own It, the American Dream, is scheduled to be released this year.