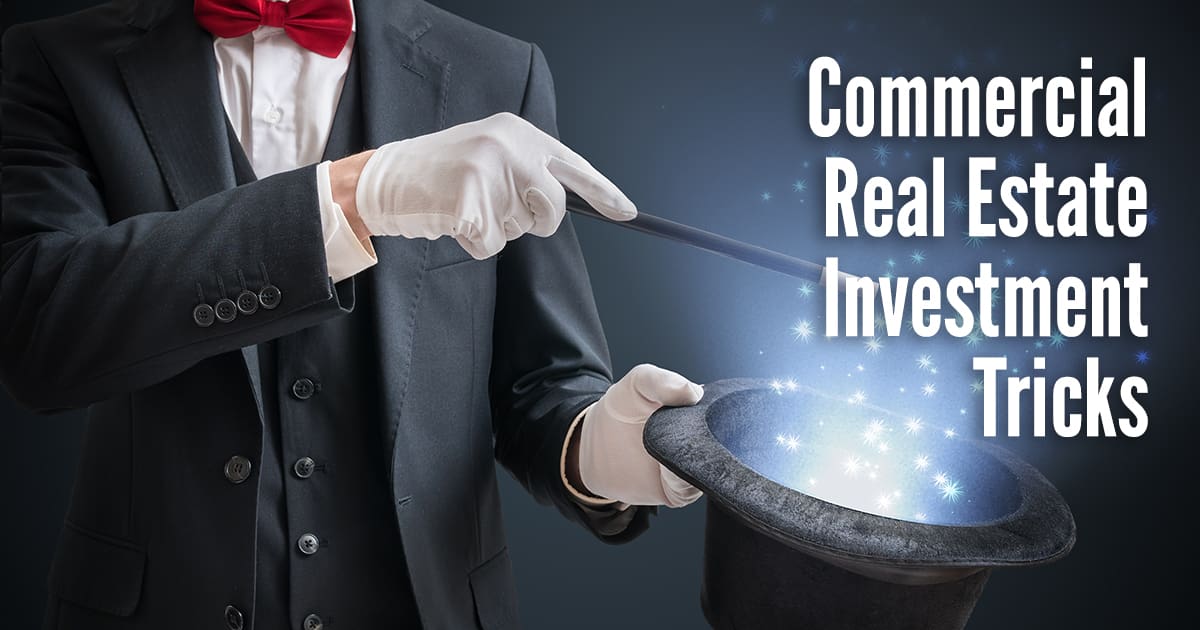 No matter the property type, commercial real estate investing is all about the lease, tenant, and your return on investment. Whether you're a seasoned investor or just starting out, remaining competitive is essential in the performance of any property.
Here are a few tricks to help you be successful:
Focus on Being an Investor Rather Than an Accumulator of Properties

Before investing in a property, do your due diligence to ensure you're making a sensible decision. Remember, investments should produce an income or a profit. If you purchase a property that produces no income or profit, you just acquired a property which costs you money rather than making an investment.

The Cost of a Tenant

Finding the ideal investment property is only part of the battle. If the property doesn't have an existing tenant, you'll need to find one. The cost of locating a tenant is the broker commission, attorney fees, tenant improvements, incentives, and down time to find a tenant. This may equal $30 to $50 per square foot. In the lease include the landlord's right to tenant financials once a year, an estoppel certificate and a personal or corporate guarantee. Savvy landlord's require a security deposit because this is a great way to hedge the risk of a tenant not paying rent. In addition, a security deposit will help guarantee that the tenant will return your property to the condition it was in at move-in, when their lease ends. If the tenant is unable to pay the full deposit for any reason, it's a big red flag.

Don't Expect to Change the Lease Terms

When it comes to contract law the landlord has the advantage. However, if you're buying a property with an existing tenant, do not expect to make changes to the current lease terms. An exception to this rule is when a landlord offers the tenant something in exchange for a "after-the-fact" lease amendment. An example is when a landlord offers a tenant new HVAC units or other tenant improvements in exchange for a longer lease term. Another acceptable time the lease terms can be changed is when the sale is contingent on a sales-leaseback. For more on sales-leasebacks, see my "Pros and Cons of A Sales-Leaseback" blog.

Tag Your Calendar Well Before the Expiration of the Lease

To avoid having a vacancy at your property, tag your calendar 9 to 12 months before the expiration of the lease. This gives you ample time to have discussions with your current tenant about a lease renewal or meet with your landlord representative to find a new tenant if the current tenant does not renew. If you have a good paying tenant, it is more cost effective to keep them then find a replacement.

Highlight Key Dates and Areas in the Lease

To help you and the tenant stay on top of key items that need to be renewed annually or during the term of your tenant, make sure to highlight key dates and items in the lease so your tenant can comply. Such items may include insurance requirements for both landlord and tenant, an estoppel certificate, the right to see tenant financials, and more.
For more helpful information on buying commercial real estate, look for Simply Own It, the American Dream, coming soon.
---
About Andrea Davis
Andrea Davis, CCIM, has practiced commercial real estate for over twenty years. Davis's breadth of knowledge stretches from developers to landlords to buyer/tenant representation and investments. Within the commercial real estate industry, Davis has won numerous awards. The Phoenix Business Journal ranked Andrea Davis CRE in the top 10 of Ranking Arizona for the category of Office Brokerage. Her book, SimpLEASEity™, focuses on leasing and is the first in a series of commercial real estate guidebooks. Her next book, Simply Own It, the American Dream, is forthcoming this year.