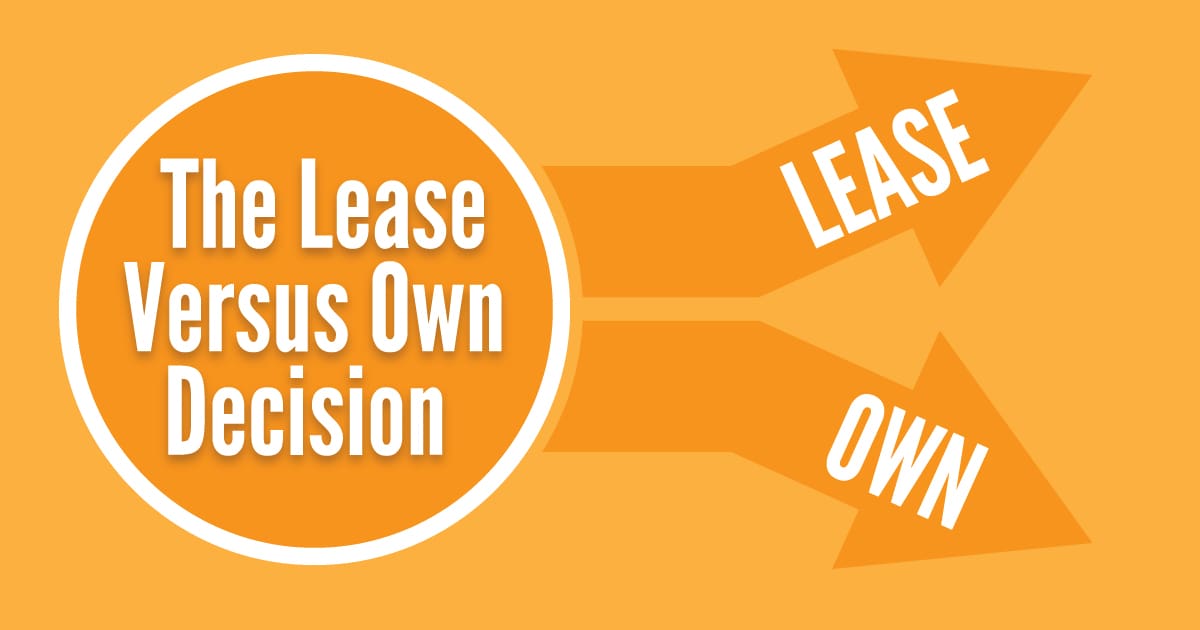 The Lease Versus Own Decision
If you're looking for commercial space for your business, you may be wondering if it's better to lease or buy. While there are pros and cons to each, the decision should come down to what's best for your company and your needs. Here's a look at both options to help guide you during this important decision.
Advantages to Leasing Commercial Property
No Down Payment

While you may have to put down a security deposit when leasing property, it will be a smaller total cost than a down payment. For reference, when purchasing a property with a traditional loan, you will typically put down anywhere 10 to 25 percent of the total property value. Tenants with acceptable credit are generally required to put up first month's rent and a security deposit equal to last month's rent upon lease signature.

Growth Opportunities

If you're a growing company, leasing offers you the flexibility to accommodate your business in the future. You may also consider building expansion options in the lease which means you'll have first rights to acquire space that becomes available in the building. Conversely, if you are testing out a new market for company expansion, a landlord may negotiate a buyout clause in your lease which allows you to vacate earlier than the original lease term for a price.
Disadvantages to Leasing Commercial Property
Renewal Costs

If you are in a competitive real estate market like Phoenix, you will probably face a substantial market rent increase from your landlord when it comes time to renew. Depending on how much the increase is, this could be troublesome for your business as you will have to decide to renew your lease at a higher rate, move to a different location or downsize. Even in a down market unwise landlords may make it difficult for a tenant to renew.

Improvements Won't Benefit You Long Term

When it comes time to move on from the property, any improvements made to the suite at your cost during the length of your term will not benefit you, and in fact adds value for the landlord. Dental and medical offices have substantial buildout costs. When a landlord will not assist with these renovations that improve their building, it may be prudent doctors or dentists consider purchasing.
Advantages to Buying Commercial Property
Building Equity

When you buy property for your business, you are investing in your company. The down payment and monthly payments build equity in the property as you pay off the mortgage and the property appreciates in value.

Generate Additional Income

To offset mortgage payments, consider acquiring a property with more space than your company needs and lease this space to another tenant, generating additional monthly income and cash flow. Be cognizant that a Small Business Loan (SBA) requires the building owner to occupy 51 percent or more of the property to qualify for an SBA loan. Furthermore, investing in a larger space than the business currently needs offers the opportunity to accommodate business growth spurts.
Disadvantages to Buying Commercial Property
Large Initial Upfront Costs

While buying commercial property could be a great investment down the line, one of the primary downfalls is the significant upfront cost. This includes, but is not limited to, the down payment, loan fees, improvement costs, appraisal fees, and more. Please note that most tenant improvement costs can be rolled into the mortgage if they are addressed early on with the loan officer.

Responsible for Repairs and Maintenance

When leasing property, the landlord is responsible for all repairs and maintenance. As the owner of the building, you serve as the landlord and these responsibilities fall on your shoulders. Another way to handle the "landlord responsibilities" is to hire a property manager for a minimal amount each month.

Whether you choose to buy or lease property, remember you don't have to go through the process alone. An experienced commercial real estate broker has your best interest in mind. They negotiate the best market deal, share cost savings based on years of experience and supoort informed decisions.
For more helpful information on buying commercial real estate, look for Simply Own It, the American Dream, coming soon.
---
About Andrea Davis
Andrea Davis, CCIM, has practiced commercial real estate for over twenty years. Davis's breadth of knowledge stretches from developers to landlords to buyer/tenant representation and investments. Within the commercial real estate industry, Davis has won numerous awards. The Phoenix Business Journal ranked Andrea Davis CRE in the top 10 of Ranking Arizona for the category of Office Brokerage. Her book, SimpLEASEity™, focuses on leasing and is the first in a series of commercial real estate guidebooks. Her next book, Simply Own It, the American Dream, is forthcoming this year.