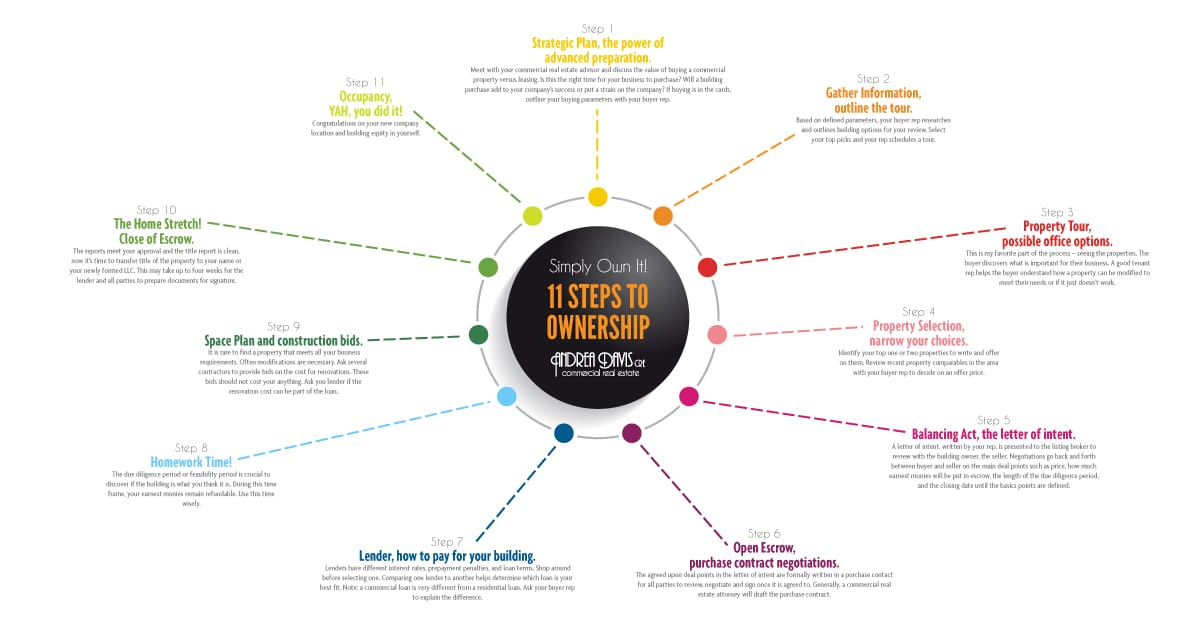 The first portion of Simply Own It, the American Dream, examines commercial real estate basics and the attributes of a skilled buyer representation and how to qualify them. The second portion outlines the 11-step purchase process in detail as a sample buyer, like yourself, navigates his way through the intricate process.
Step One – Strategic Plan, the power of advanced preparation. Meet with your commercial real estate advisor and discuss the value of buying a commercial property versus leasing. Is this the right time for your business to purchase? Will a building purchase add to your company's success or put a strain on the company? If buying is in the cards, outline your buying parameters with your buyer rep.
Step Two – Gather Information, outline the tour. Based on defined parameters, your buyer rep researches and outlines building options for your review. Select your top picks and your rep schedules a tour.
Step Three – Property Tour, possible office options. This is my favorite part of the process – seeing the properties. The buyer discovers what is important for their business. A good tenant rep helps the buyer understand how a property can be modified to meet their needs or if it just doesn't work.
Step Four – Property Selection, narrow your choices. Identify your top one or two properties to write and offer on them. Review recent property comparables in the area with your buyer rep to decide on an offer price.
Step Five – Balancing Act, the letter of intent. A letter of intent, written by your rep, is presented to the listing broker to review with the building owner, the seller. Negotiations go back and forth between buyer and seller on the main deal points such as price, how much earnest monies will be put in escrow, the length of the due diligence period, and the closing date until the basics points are defined.
Step Six – Open Escrow, purchase contract negotiations. The agreed upon deal points in the letter of intent are formally written in a purchase contact for all parties to review, negotiate and sign once it is agreed to. Generally, a commercial real estate attorney will draft the purchase contract.
Step Seven – Lender, how to pay for your building. Lenders have different interest rates, prepayment penalties, and loan terms. Shop around before selecting one. Comparing one lender to another helps determine which loan is your best fit. Note: a commercial loan is very different from a residential loan. Ask your buyer rep to explain the difference.
Step Eight – Homework Time! The due diligence period or feasibility period is crucial to discover if the building is what you think it is. During this time frame, your earnest monies remain refundable. Use this time wisely.
This is when you hire a building inspector to discover what lies beneath the surface. A lender will require an appraisal and if necessary, an Alta Survey and an Environmental Report. These four reports cost from $10,000 – $15,000 depending on the size of the building and take four to six weeks for results. Discuss with your buyer rep and attorney if you should purchase the building in an LLC and the benefits. Have your attorney review the title report for any encumbrances on the title.
Step Nine – Space Plan and construction bids. It is rare to find a property that meets all your business requirements. Often modifications are necessary. Ask several contractors to provide bids on the cost for renovations. These bids should not cost your anything. Ask you lender if the renovation cost can be part of the loan.
Step Ten – The Home Stretch! Close of Escrow.  The reports meet your approval and the title report is clean, now it's time to transfer title of the property to your name or your newly formed LLC. This may take up to four weeks for the lender and all parties to prepare documents for signature.
Step Eleven – Occupancy, YAH, you did it! Congratulations on your new company location and building equity in yourself.
Simply Own It, the American Dream, is scheduled for publication in late 2020.  It is the second in a series of commercial real estate books for companies and outlines the value of purchasing commercial real estate for your asset portfolio. SimpLEASEity™ , the first book, shares hundreds of leasing tips for business owners and can be purchased at www.amazon.com