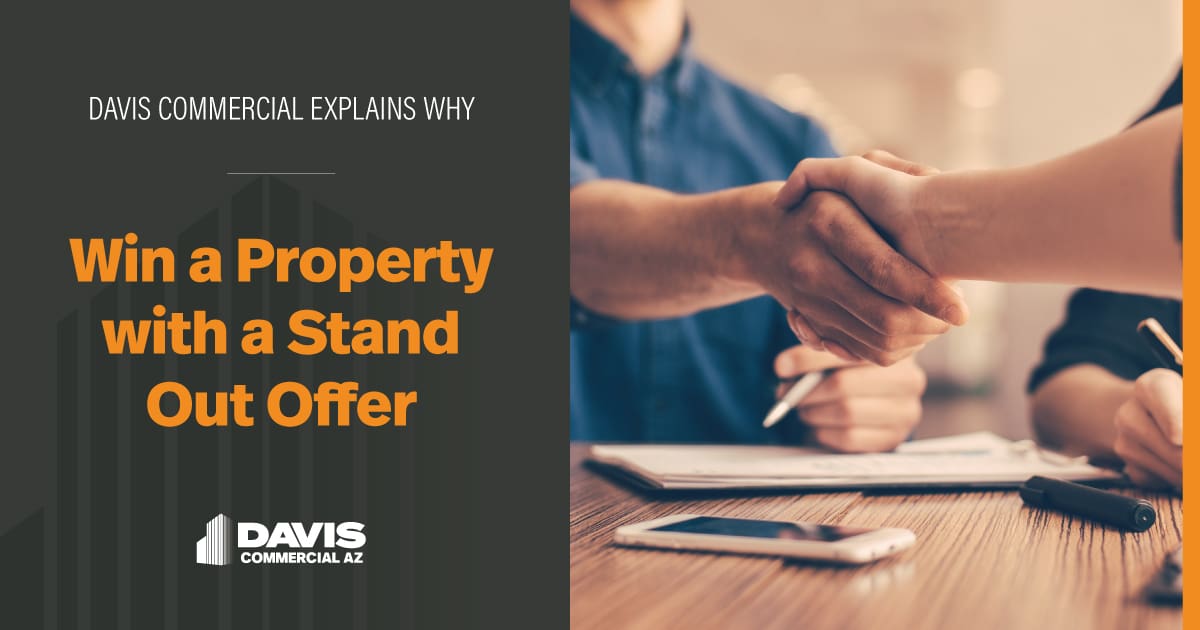 Picture this. After months of searching for the perfect property for your business, you find it and it checks all your boxes. Chances are that another business owner feels the exact same way. So how do you make your offer stand out? Fortunately, there are a few things you can do to increase your chances of closing the deal. Here are a few suggestions.
Know the Area
Prices vary based on location, improvements, updates, and lot sizes. Familiarize yourself with price trends in the area you're looking to buy in. This prepares you in advance for what to expect from other bidders and also helps you draft an offer the seller will respond to.
Work with A Reputable Buyer Representative
Working with a well-connected buyer rep has benefits far beyond offering the highest price. A broker's positive reputation in the marketplace adds credibility to your offer. They can find properties before they come to the market, draft the market offer and discuss with the seller's broker why offer should be on the top of the list. An experienced buyer rep pays dividends throughout the negotiation process.  
Create Certainty for the Seller – Show Your Financial Strength
When possible, get pre-qualified by an established lender before making an offer. If you are paying cash, present proof of funds for the offer price alongside the letter of intent. This assures a seller that you are financially capable and serious about the purchase.
As a side note, commercial investment lenders need to know property details for owner/user and investment transactions. For investment sales, a lender will need to understand the property's income or rent roll. A rent roll outlines the net operating income (NOI) for the property along with the basic lease terms. The lenders rick factor is based on the rent roll and the tenant's financial strength. The stronger the tenant(s), the less important your financial strength is to a lender.
Offer Compromises That Benefit the Seller
It's likely the seller is also a buyer looking for their next property. Offering perks to the seller could help your offer stand above other buyers and can help get the deal closed. A perk example might include offering a short-term leaseback option. This allows the seller to stay in the property pending closing on their new deal. It might just be the tipping point for you to be the chosen one and get your offer into escrow.
Other Tips
Put a sizable amount of earnest money in escrow to show the seller that this is the property for your business and that you are not just shopping around.
Shorten your due diligence period and have your earnest monies go non-refundable as soon as you comfortably complete your investigation period.

 

Once you have all of your ducks in line, close as quickly as possible. Title and your lender will need about two weeks to get everything in line to close, so prep them in advance that closing quickly is part of this deal.
If you are paying cash, do your homework upfront and waive the appraisal.

 
Be Prepared to Go Over Asking
In a seller's market, expect to pay close to asking or higher. But don't let that overwhelm you! Remember, your business needs a place to flourish and sometimes it only takes a few thousand more to get the seller's attention. Doing this, shows the seller you want the property and are willing to pay for it. 
For more helpful information on buying commercial real estate, look for Simply Own It, the American Dream, coming soon.
---
About Andrea Davis
At Davis Commercial AZ, we are committed to helping our clients realize their commercial real estate vision. With more than 30 years of experience, we ensure a premier standard of services in the Phoenix metroplex and surrounding areas. Formerly known as Andrea Davis CRE, Davis Commercial AZ was formed by Andrea Davis, a respected industry leader whose breadth of knowledge stretches from developers to landlords to buyer/tenant representation and investments. Davis has won numerous awards and Ranking Arizona regularly places Davis Commercial AZ in the top 10 category for Office Brokerage. As a regular educational blogger for the BrokerList, Twitter's top commercial influencers acknowledges Davis as a commercial real estate thought leader. Her book, SimpLEASEity™, neutralizes leasing fears and is the first in a series of commercial real estate guidebooks. Her next book, Simply Own It, the American Dream, is scheduled to be released this year.