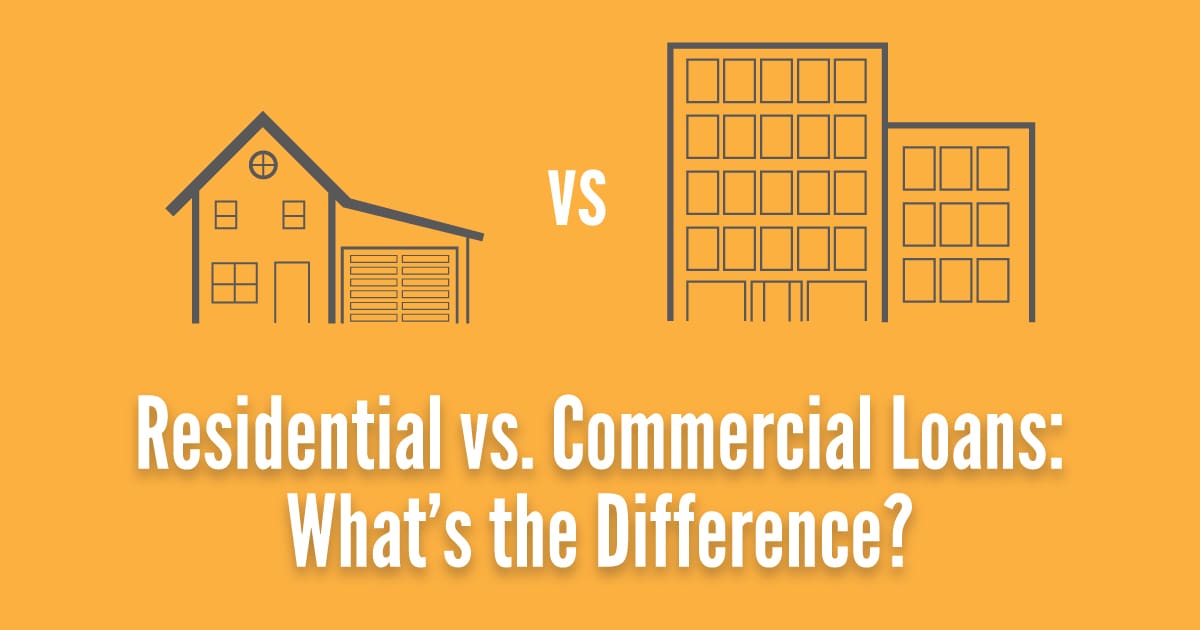 So, you're ready to buy your first commercial property. Great news! While you may have purchased residential real estate in the past, it is important to note that acquiring an office property is nothing like buying a home. Feeling nervous? Don't be. My new book, "Simply Own It, The American Dream," will guide you through how to buy the perfect commercial property to support your business, step by step. Before you get your hands on the book, this blog covers some helpful tips.
Residential vs. Commercial Loans: What's the Difference?
So how do residential and commercial loan options stack up? There are many differences between the two financing options. Here are five: 
Down Payments

The down payment on a residential loan can be negotiable but typically is about 3 to 4 percent. A commercial real estate loan, on the other hand, is considered riskier than a home mortgage and as a result, lenders generally require a 10 to 25 percent down payment for SBA financing. Conventional loans often require an 80 percent Loan-to-Value Ratio.

Interest Rates


Whereas residential mortgage rates are about 2 percent over the 10-year treasury rate, commercial mortgage rates are typically between 0.25 to 1 percent higher than a residential mortgage rate for an owner/user property and commercial investments. If the commercial investment property type requires active management, that rate could be even higher. Why? Commercial real estate loans are fairly illiquid assets. There is no organized secondary market for commercial loans, like residential loans, and they could be difficult to sell quickly.

Loan Prequalification


Whether or not you qualify for a residential loan largely depends on you and your income. With commercial investment loans, the lender prefers to know more details about the property and how much income the property will generate. The more the property generates, the less important your income is to a lender. Owner/user commercial properties are financed based on the business income and possibly personal assets.

Length of Loan and the Amortization Period


Residential loans are typically longer than a commercial loan and could be up to 30 years. Owner / user commercial loans are generally much shorter than that and often range between 10 and 25 years. Commercial investment loans are often amortized over shorter lengths of time between 5 and 15 years. While the amortization period may be the same length of the loan for a residential loan, it may differ greatly from the length of a commercial loan. For example, a fixed five-year loan may be amortized over twenty years.

Collateral


Collateral refers to an asset that a lender accepts as security for a loan. It's "insurance" for the lender that you will pay back your loan. In a residential loan, your collateral is your home. Simply put, you will lose your home if you aren't able to pay back your loan. For a commercial loan, the collateral will depend on your lender and your qualifications. Often personal assets are required to secure an owner/user loan. 
For more helpful information on buying commercial real estate, look for Simply Own It, the American Dream, coming soon.
---
About Andrea Davis
Andrea Davis, CCIM, has practiced commercial real estate for over twenty years. Davis's breadth of knowledge stretches from developers to landlords to buyer/tenant representation and investments. Within the commercial real estate industry, Davis has won numerous awards. The Phoenix Business Journal ranked Andrea Davis CRE in the top 10 of Ranking Arizona for the category of Office Brokerage. Her book, SimpLEASEity™, focuses on leasing and is the first in a series of commercial real estate guidebooks. Her next book, Simply Own It, the American Dream, is forthcoming this year.