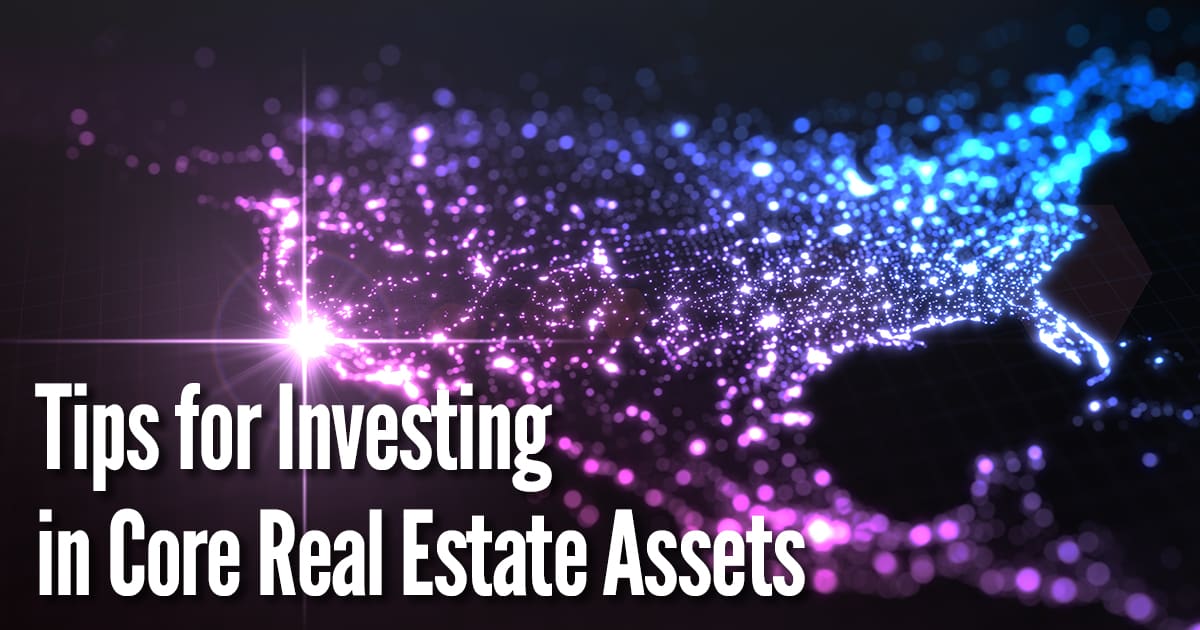 If you're looking to diversify your portfolio, look no further than core commercial real estate assets. Amid the current pandemic, typical strong demand urban centers like San Francisco, New York and Chicago have shifted in popularity for commercial investors. Instead, tertiary markets such as Phoenix, Austin, Nashville, and many other secondary markets are sought and have an added incentive with a higher return for the investor.
Core investments generally employ low to moderate leverage and target stabilized, fully leased investments with a meaningful income component. Many investors see core investments as an attractive strategy for the level of risk they provide compared to other investment opportunities. If you're ready to optimize your investing strategy and add core assets to your portfolio, here are a few helpful tips you should know.
Diversify by Geography
While it may be convenient to invest in assets in your own backyard, there are dozens of markets across the country that have high rental demand, thriving economies and properties with long term leases in place to high credit tenants or strong local tenants. While conditions can vary market to market, this can provide countless opportunities for specialized returns and a chance to spread the risk around. And while we're talking about risk, investors that diversify their real estate portfolios across geography avoid the risk of over-concentration in a one particular location or regional market.
Here's an example of different cap rates for the same Starbucks product. In California, a Starbucks may sell for around a 4% cap rate while in New Mexico the same long term NNN lease may sell closer to a 5% cap rate. It's the same product and yet the return is almost 1% higher in a secondary market.
As an investor, are you willing to take the risk of a secondary market for a higher annual return on your asset?
Know What You're Looking For
Just like making a grocery list before you go to the store, it helps to know what you want before you consider investing in core assets. Here are a few questions to ask yourself:
Am I looking for a property with a single tenant or multi-tenants?
Which asset class am I interested in?
What are the latest economic trends in the area I'm interested in investing in?
What's the property's condition and am I willing to make improvements if necessary? (In most cases, Core assets
are often well kept and require little to no improvements on behalf of the new owner)
What is the holding period return/yield?
A seasoned, trusted commercial real estate broker is the perfect advisor to assist with this decision.
Work with a Local Expert
Experienced representatives are crucial in winning a fair shake throughout purchase contract negotiations. Consider the relationship with your buyer rep a partnership that pays dividends. A local expert will be well versed in the current market's cycle and can guide you toward the best investment for your specific parameters. Before you hire a buyer rep, it's important to note that not all reps are created equal. Do your due diligence and don't be afraid to ask questions to help you decide if working together is right for you.
For more helpful information on buying commercial real estate, look for Simply Own It, the American Dream, coming soon.
---
About Andrea Davis
Andrea Davis, CCIM, has practiced commercial real estate for over twenty years. Davis's breadth of knowledge stretches from developers to landlords to buyer/tenant representation and investments. Within the commercial real estate industry, Davis has won numerous awards. The Phoenix Business Journal ranked Andrea Davis CRE in the top 10 of Ranking Arizona for the category of Office Brokerage. Her book, SimpLEASEity™, focuses on leasing and is the first in a series of commercial real estate guidebooks. Her next book, Simply Own It, the American Dream, is forthcoming this year.