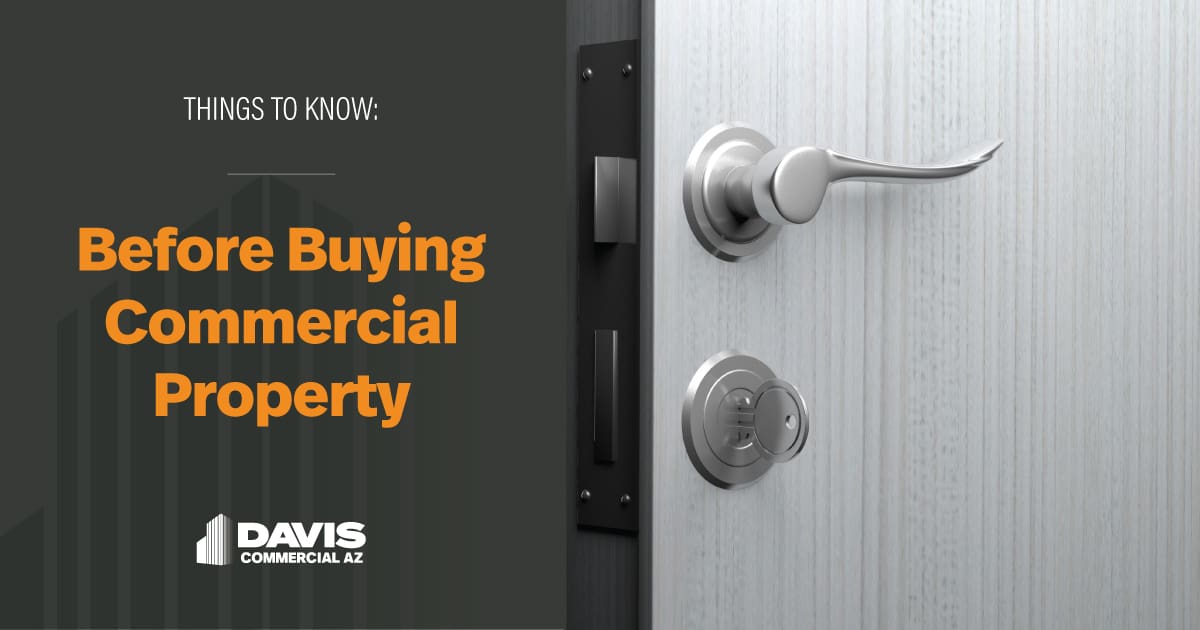 To buy or not to buy? That is the question every business owner asks themself as their business begins to stabilize. While there are pros and cons to both, more on that in this blog post, it is important to do a thorough analysis to help determine if purchasing a building versus leasing is the right decision for you. Consider these five points before buying commercial property.
What is your long-term plan?

Making a long-term investment in a building is something not to be taken lightly. A plan helps focus your efforts on what's the best choice for your company. Evaluate your business short and long term goals, whether your business is expanding or contracting, and current and future cashflow. It is important that the building meets future business projections. Don't be afraid to lean on your buyer representative, CPA and financial planner during this time. They have your best interest in mind and can guide you through the process.

Is it the right time to buy?

The timing on purchasing a commercial building varies greatly. From considering your company's business philosophy, to analyzing your company's financial strength, there is a lot to think about before signing on the dotted line. Market conditions play a big role in the timing of a purchase. For the buyer, it is whether the purchase contract is negotiated in a seller's market when properties are scarce and prices are rising, or a buyer's market when building sales are plentiful and the buyer holds the reins.

How is the building classified?

Commercial buildings have different classifications based on location, age, size, and quality of materials. Office buildings are typically classified as Class A, Class B or Class C. Understanding how buildings are classified, will help you negotiate the best price. Class A buildings are usually newer buildings in top notch areas come at a premium price, while Class C buildings are less sexy, a bit older and tend to need more TLC. They'll also be less expensive. Your buyer rep can assist you in understanding building classifications, help you determine if the property is a good investment for your business and share negotiation tactics to achieve your best price. Class A buildings are not the ideal choice for most businesses.

What's the condition of the building?

While knowing the classification of the building can be useful, knowing the condition of the building is critical. Unless it's a new build, there will likely be some wear and tear from the previous occupant. Be sure to have it thoroughly inspected so you can learn of any potential problems, like deferred maintenance, mold, or asbestos. Some properties may also come with a hidden cost such as improper zoning for your business or not enough parking.

What are your financing options?

Commercial real estate has different financing options and the loan you'll be able to secure depends on your personal and business credit scores, the type of property you're buying and who the lender is. Similar to buying a home, you may want to consider getting an idea from your lender as to how much you can finance and what an estimated mortgage payment will be. There are a variety of programs. Also, work with your account to determine what you can reasonably afford.
For more helpful information on buying commercial real estate, look for Simply Own It, the American Dream, coming soon.
---
About Andrea Davis
Andrea Davis, CCIM, has practiced commercial real estate for over twenty years. Davis's breadth of knowledge stretches from developers to landlords to buyer/tenant representation and investments. Within the commercial real estate industry, Davis has won numerous awards. The Phoenix Business Journal ranked Andrea Davis CRE in the top 10 of Ranking Arizona for the category of Office Brokerage. Her book, SimpLEASEity™, focuses on leasing and is the first in a series of commercial real estate guidebooks. Her next book, Simply Own It, the American Dream, is forthcoming this year.