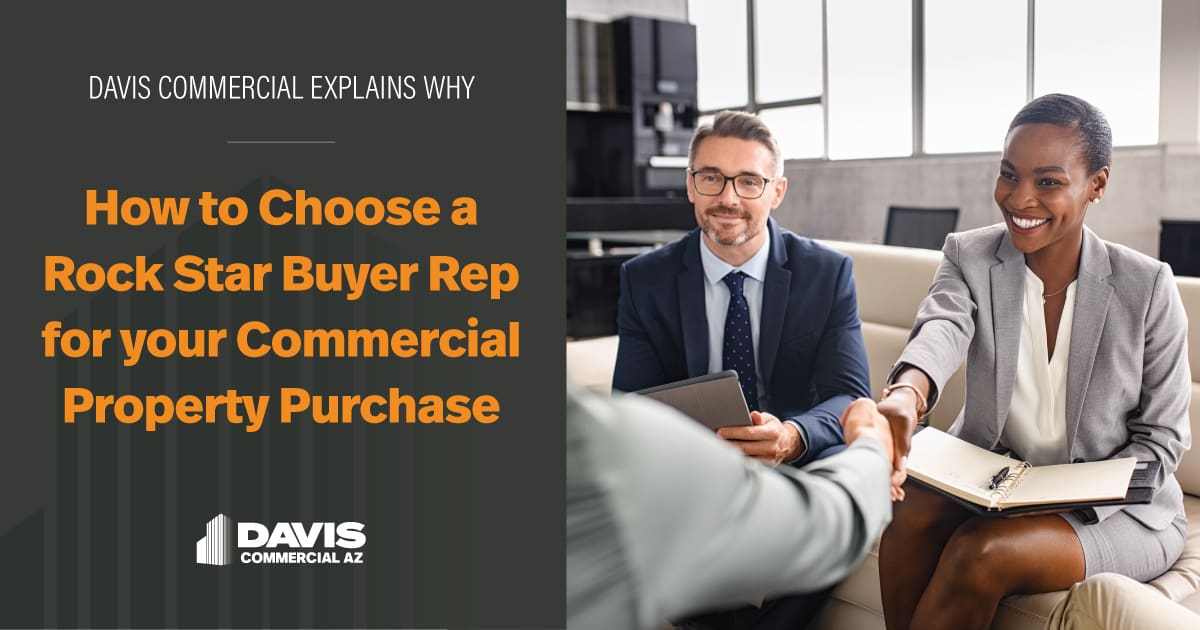 Every month for the past four years you've watched a huge pile of money go towards the rent of your commercial space. It's your biggest monthly expense, by far. Your business is growing, and your lease is up in one year. It's time to start thinking about investing in yourself with your own building. A trusted colleague bought theirs last year, now it's your turn.
Before you choose a commercial real estate professional to represent you, sit down and compile your wish list for your new property. What's at the top of the list? Location, of course. Narrow down where you want to search, keeping top of mind your commute and your staff's drive time too. What else should make the list?
You know the size of your current rental but how much space do you need for your future growth?

 

Do you need covered parking, designated spaces out front?

 

A single story or two?

 

Is signage crucial to your business' success?
Will a patio space enhance your business?

 

Do you need to be close to a major thoroughfare?

 
Iron out your basic needs so your broker knows your "must haves" which will narrow down your search. You don't want to waste time viewing buildings that will never fit the bill.
Once you are satisfied with your wish list, you should reach out to your lender to discuss your budget and provide a pre-approval letter to know how much you can spend. A commercial lender may need information on the specific building of interest prior to making any financial commitments. Anticipate 10-20% down depending on if you are considering SBA (Small Business Administration) financing or up to 30% for a conventional loan. Don't forget about taxes, insurance, common area maintenance and utilities. Buyers need an estimate of these as well as renovation costs before taking the ownership plunge. Often a lender will offer the option to roll the renovation costs into the loan. This requires a plan from a designer or architect, and a bid from a contractor. 
"It's a good idea to bring in a designer/space planner early on in the buying process," said Beth Katz of KatzDesignGroup in Phoenix, AZ. "Knowing if the building you want to buy will satisfy all of your needs early on will save you headaches in the long run."
Now it's time to seek out a commercial real estate rock star to guide you through this entire tedious process. 
When choosing a commercial real estate buyer representative to assist you with buying a commercial building, here are five qualities to consider:
Attention to detail: The commercial real estate buying process can be complex, with many moving parts and potential pitfalls. A good buyer representative will pay close attention to detail, ensuring that all necessary due diligence is completed and that all paperwork and documentation is in order. They have expert referrals at their fingertips throughout the buying process.
Communication skills: The right buyer representative will help you figure out your priorities and narrow down locations that best suit your needs. She will zero in on the right site and find a few backups to make sure you're choosing the perfect property for you. They should respond quickly to any questions or concerns.
Experience: Look for a buyer representative who has a strong track record of successfully representing clients in commercial real estate transactions in your business genre, i.e.: office, restaurant, retail, manufacturing, etc. A skilled buyer rep will be able to walk you through each step of the buying process from site selection to closing date and beyond. They will explain every detail and negotiate the best deal for you.
Knowledge: Your buyer rep should know the local commercial real estate market, including pricing trends, zoning regulations, and other factors that can impact the value and viability of the building you are looking to buy.
Professionalism: A buyer rep should be professional, ethical, and trustworthy. They will work hard to put your interests first and make it a priority to achieve your goals and objectives. It's crucial for them to have relationships with other industry professionals, such as attorneys, designers, contractors, and lenders, which are all beneficial resources throughout the buying process.
Following the guidance above will lay the groundwork for a focused, successful property search. Hiring the right buyer rep will make this arduous process a little, no, a lot easier! Before you know it, you'll be reaping the benefits of building ownership for many years to come.  
---
About Andrea Davis
Davis Commercial AZ is committed to helping our clients realize their commercial real estate vision for over 25 years of experience. We ensure a premier standard of services and client dedication is at the center of everything we do. We pride ourselves on working on your behalf to secure all possible incentives in this marketplace. Davis Commercial AZ is owned by Andrea Davis, CCIM, a respected industry leader whose breadth of knowledge stretches from developers to landlords to buyer/tenant representation and investments. Davis has won numerous awards, is in the top 10 category for Office Brokerage in Ranking Arizona and is a regular educational blogger for theBrokerList. Her book, SimpLEASEity™, neutralizes leasing fears and is the first in a series of commercial real estate guidebooks. Her next book, Simply Own It, the American Dream, is scheduled to be released this year.
About Beth Katz
KatzDesignGroup is a full-service design firm focusing on restaurant interiors, casino and hotel design, healthcare interiors, and tenant workplace improvements. They provide design solutions highlighting their client's forward-thinking visions and brand personalities. Beth Katz, Principal, is a recipient of AZRE's Most Influential Women in Arizona and NEWH's Top Interior Design Firm of 2022. For more information about KatzDesignGroup contact Beth Katz at 602.312.9223 or visit   www.katzdesigngroup.com