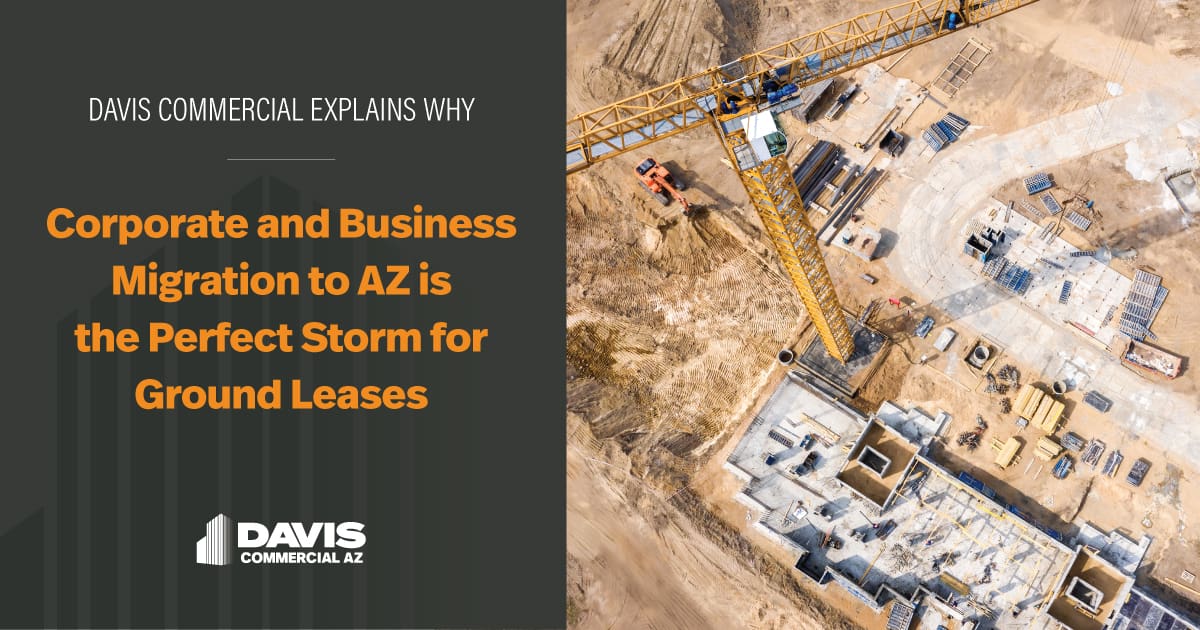 Recent trends have shown a surge in corporate headquarters, regional branches, and other companies, relocating to business-friendly states including AZ, FL, NC, TN, and TX. These moves are maxing out commercial vacancies in all sectors including retail, industrial, and despite the post-pandemic work-from-home craze, even office. With fewer buildings for sale, business owners are seeking to buy land and build their company vision, but they can't always make the numbers work. Landowners see an opportunity to ground lease land and reap an annual income versus selling it. There are pros and cons of ground leases for both the landowner and the tenant. 
What is a Ground Lease?
A ground lease is an agreement where the lessee pays rent on a parcel of land, and can build on and modify the property that is subject to the lease. After the lease term has expired, title to and ownership of the leased land and any improvements constructed, transfers to the lessor. Ground leases are typically for longer terms than standard leases, ranging from 20-40 years, some as many as 99 years. Construction and improvements on the land are generally paid overtime by the lessee.
Retail demand for QSR has created a land leasing boom.
It's not just large corporations and manufacturing facilities seeking space. Landowners with large lots are dividing property into smaller sites to suit medical, office, services and quick serve restaurants and coffee shops. Not every business has deep pockets like Starbucks, so a land lease makes site acquisition more affordable. Take away the large initial down payment and those dollars can go toward buildout, and a myriad of other expenses needed to launch a new location. A ground lease becomes a win-win for the landlord and the tenant.
Davis Commercial AZ suggests, "For the right scenario, a ground lease can benefit both tenant and landowner, but it's not the best fit for everyone – in particular those who want to own the land beneath their building. Weigh the pros and cons with our financial planner, tenant representative, and attorney."
"Ground leases are an invaluable tool for the development of commercial real estate because of the benefit they afford to both parties,"

Frank Tomkins real estate and commercial finance attorney with Gust Rosenfeld said.

"They give the lessee the opportunity to locate in more desirable areas, where the cost to purchase might be too expensive, while giving the lessor the ability to develop their property and ensure cash flow without incurring the risks and the capital investment required to do so."
Frank shared his expert knowledge of ground leasing in his presentation at a recent commercial real estate forum in Phoenix, AZ.
Advantages of Ground Leases for Landlords
Avoidance of capital gains tax, which could be imposed if property was sold
Landlord has the right to approve changes made to property
Landlord retains ownership of the land
The ground lease provides a steady, predictable income stream for the landlord
Advantages of Ground Leases for Tenants
Lower upfront costs because rent payments are generally cheaper than the cost of purchasing fee title to property
Don't require down payments needed in the purchase of property so tenants can invest more in the building and buildout
Lessee owns the improvements during the term of the lease
Lower cost permits lessee to locate in better locations than would be possible if land were purchased
Lease payments are tax-deductible
Disadvantages of Ground Leases for Landlords
Can result in higher income taxes for lessor
Lessor has less control over its destiny because of possibility of tenant default
For subordinated ground leases, the lessor has a lower priority than lessee's lender and could lose land in the event the lessee defaults under its loan
Disadvantages of Ground Leases for Tenants
Lessee will be required to seek approval from landlord with respect to at least some of lessee's activities on the property
The rent under a ground lease will escalate over time, possibly making the property more expensive later in the lease than outright ownership would be
Potential for eviction in the event of a default under the ground lease
Whether it's leasing, buying or ground leasing property, it's best to seek out expert advice and consider the advantages and disadvantages of a few good options. Find that perfect location then explore the possibilities. Often the right choice will be a scenario that wasn't even on the radar.
---
About Andrea Davis
At Davis Commercial AZ, we are committed to helping our clients realize their commercial real estate vision. With more than 30 years of experience, we ensure a premier standard of services in the Phoenix metroplex and surrounding areas. Formerly known as Andrea Davis CRE, Davis Commercial AZ was formed by Andrea Davis, a respected industry leader whose breadth of knowledge stretches from developers to landlords to buyer/tenant representation and investments. Davis has won numerous awards and Ranking Arizona regularly places Davis Commercial AZ in the top 10 category for Office Brokerage. As a regular educational blogger for the BrokerList, Twitter's top commercial influencers acknowledges Davis as a commercial real estate thought leader. Her book, SimpLEASEity™, neutralizes leasing fears and is the first in a series of commercial real estate guidebooks. Her next book, Simply Own It, the American Dream, is scheduled to be released this year.
About Frank Tomkins
Frank Tomkins is a Partner at Gust Rosenfeld P.L.C. and focuses his real estate law practice on sophisticated commercial real estate transactions. Frank is experienced in the acquisition, development, disposition, financing and leasing of improved and unimproved real estate, including shopping centers, office buildings, industrial parks and mixed-use developments. He is certified as a Real Estate Specialist by the Arizona Board of Legal Specialization. Celebrating over 100 years of legal excellence, Gust Rosenfeld draws upon its long-standing experience in a variety of practice areas for clients ranging from Fortune 100 companies to public entities, privately held firms, and individuals. For more information about Frank Tomkins and Gust Rosenfeld, please visit www.gustlaw.com