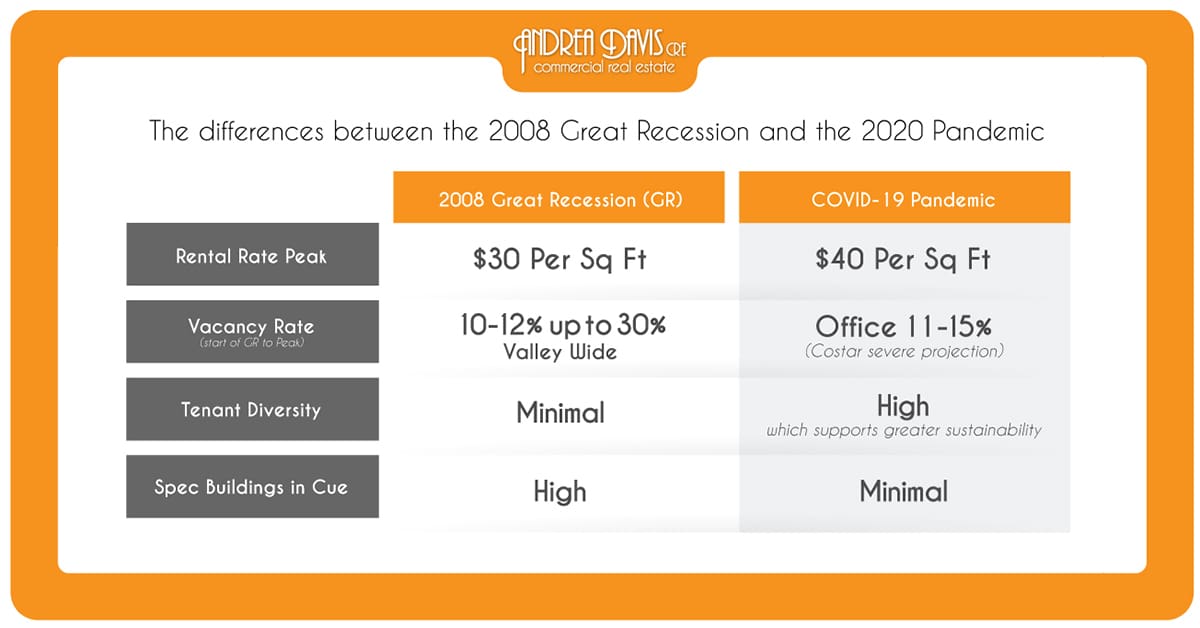 Flexibility – key to survival post COVID-19
On April 29, Arizona Governor Ducey extended the state's Stay-At-Home-Order Order until May 15. For many, that means two more weeks of working from home, two more weeks office spaces will be empty, and two more weeks businesses like gyms, barber shops and salons will remain closed. And Arizona isn't the only state in this position. 
Before we jump into what could happen next for these businesses and the commercial real estate industry as a whole, I want to take a step back and look at how we got here. We all know where we were on September 11, and the same is true for COVID-19.
My family was on Spring Break in early March at a quaint Sedona bed and breakfast. The last diners at breakfast, we sprawled over the rawhide couch nestled before a large fireplace contemplating our daily adventures. The cool rain that pitter-patted on the inn's metal roof confirmed we were in a slice of heaven. This is the moment I knew our world would change forever. The inn keeper's New York attorney arrived in frenzied haste and rapidly encouraged the owner to close the B&B before potential lawsuits smothered him from Coronavirus.
"You don't want to be a victim of a lawsuit because you kept your doors open. New York City is in a flat-out panic and everything has closed down," the attorney pressed.
The owner assured him that he would consider this advice. Just two days later, I too felt the impact of COVID-19. I received call after call from my clients panicking to either to put their moving plans on hold or cancel them entirely until further notice. We were starting to see here that Phoenix had locked down weeks before the official stay-at-home policy was enacted. At that moment, I put my damage control hat on and went to work advising clients how to negotiate rent relief or deferment with their landlords and where to find legal help if necessary.
I recently read this comment from Costar: "The nation's average vacancy rate is currently 10%, a figure CoStar expects will steadily climb through mid-2023."
Fundamentally, I disagree with this statement in Arizona. While tourism and the entertainment industry has been hit hard, we have diversification in our business sectors – many are going strong. Vacancy rates in all commercial real estate sectors were at an all-time low prior to pandemic.
I believe Arizona will continue to sustain manageable vacancy rates in office and industrial post pandemic for these reasons:
For the first time, Arizona is not overbuilt with spec office space. Much of the construction is spoken for and there are minimal spec buildings in process.
Some companies will discover they need more space due to the "new norm" defined by OSCHA and HR standards
Call centers will either split shifts or expand their footprint if cubicles are too close for employee personal comfort or CDC recommendations. During the transition period sneeze shields and upgraded filtering systems could be put in place.
Businesses that need additional space, will absorb space that other companies release to the landlord. Smaller business with individual offices may not feel any change in the work environment other than government mandated health signs in the workplace.
Rental rates mayequalize. Landlords with no debt, lower debt, or agreeable lenders will do what is necessary to keep their buildings at high occupancy. They'll offer incentives to attract renters. This will cause a domino effect on office rental rates as landlords compete for tenants. Like we saw in the Great Recession, landlords with inflexible lenders will not be able to adjust to these new rental rates and will probably lose their buildings.
For flexible tenants, this presents a good time for companies to negotiate an advantageous lease.  Already landlords are open to shorter term leases if minimal upfront capital is required from the landlord.
Working from home doesn't work for every company and has shortcomings. Synergy and creative inspiration are two of the big drawbacks. Humans desire the company of others and need a break from the home routine.
I have many clients on "hold" who need office and industrial space. It feels like we're locked in the starting gates at the Triple Crown waiting for the gate release. The second the gates open we'll have a line drive start. The pent-up demand for space will be absorbed quickly further reducing office choices for renters.
As we wait to see what happens next, I suspect Arizona will come out of the pandemic above other major cities for reasons including our geographic location, our "dry heat", plethora of land for development, low building footprints and nationwide stats that show we managed the outbreak well. Even so, it's important that companies use this time to focus on the next "pandemic." Those companies who create a plan now with workspace, renegotiated rent terms and a readiness plan, will come out ahead down the road.
About Andrea Davis
Andrea Davis, CCIM, has practiced commercial real estate for over twenty years. Davis's breadth of knowledge stretches from developers to landlords to buyer/tenant representation and investments. Within the commercial real estate industry, Davis has won numerous awards. The Phoenix Business Journal ranked Andrea Davis CRE in the top 10 of Ranking Arizona for the category of Office Brokerage. Her book, SimpLEASEity™, focuses on leasing and is the first in a series of commercial real estate guidebooks. Her next book, Simply Own It, the American Dream, is forthcoming this year.