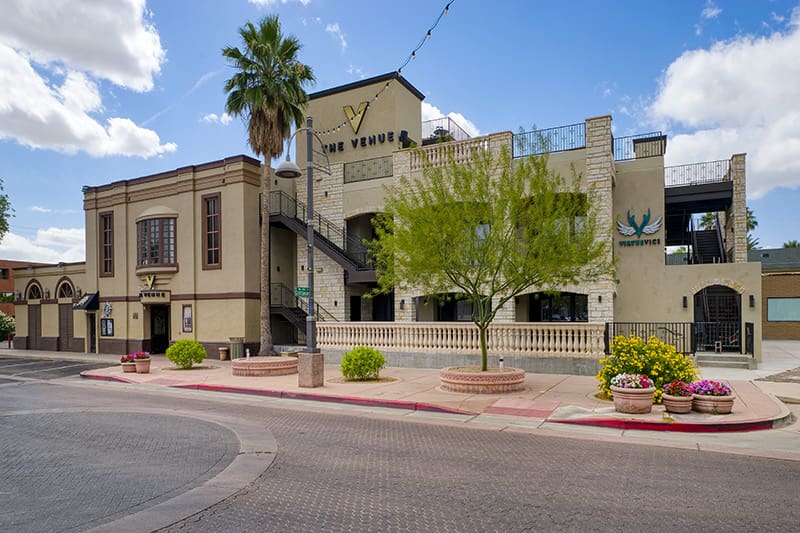 Owner/User or Redevelopment Opportunity
The Venue Scottsdale – 7117 3rd Ave, Scottsdale, AZ
Download the Property Brochure
Located in the heart of Old Town Scottsdale, The Venue Scottsdale is a one of a kind event and entertainment venue featuring nine unique and flexible event spaces. With two beautiful rooftop lounges overlooking Scottsdale and the surrounding mountains. It is the only venue in Scottsdale with a retractable roof offering an event setting like no other.
Building Overview
38,000 SF free standing building
2 stories with a grand, open venue space
1 large rooftop lounge and bar +/- 3,000 SF
1 smaller rooftop lounge +/- 700 SF
9 unique and flexible event spaces for all sized groups
Large built-in stage with plug and play technology
Audio/ visual capabilities including premium audio, video production and lighting
Full-service kitchen and walk-in coolers
Retractable roof over the Main Courtyard
Additional office space and retail space
Site Summary
Parking: Onsite surface parking
Lot size: 1.10 acres 47,916 SF
Land Use: C-2 D0
Property Use Type: Multi-purpose
Year Built: 1995
APN/ Parcel ID: 173-50-034
The Venue Scottsdale
Prominently located in the heart of Old Town Scottsdale, The Venue Scottsdale is a ONE OF A KIND event and entertainment venue. It features 9 unique and flexible event spaces with 2 beautiful rooftop lounges overlooking Old Town and majestic Camelback Mountain.
The facility is equipped with numerous bars, a full-service kitchen, offices, and separate retail spaces. The main courtyard includes a grandiose granite bar adorned with a leaf canopy. The magical setting suggests a Wild West experience like Tombstone, a medieval journey like King Arthur and a fantasy adventure like The Hobbit.
The center stage area has audio/visual capabilities, including premium audio and video production equipment, and lighting with plug-and-play technology. Intricate stone, wood, and wrought iron combine to form a truly incredible setting to create an experience remembered. The high ceiling features the retractable roof which displays the beautiful blue Arizona sky or a star filled night. This large room can host bands, theatrical acts, weddings, banquets, business events, parties and any number of entertainment options.
INVOKE YOUR IMAGINATION!
Adjacent to the Main Courtyard, can be used as an exclusive event space or in conjunction with the Main Courtyard. It hasa signature built-in bar, billiards tables, flat screen TVs and an electric fireplace for ambiance. VirtueVice Bar sits on two floors. A very chic, elegant atmosphere welcomes guests with ample lounge seating. A large semi-circular bar with natural lighting opens to a patio. Perfect for enjoying the vibes of Old Town Scottsdale. The second-floor loft bar has an open-air feel with a large balcony and views of the surrounding neighborhood. It accesses the rooftop observation deck.
The grand red velvet ballroom, located on The Venue's second floor, overlooks the Main Courtyard. This space features elegant chandeliers, rich wood and stone, private restrooms and a dedicated bar. It's a great choice for a private event. Open the accordion patio doors for a birdseye view of the Main Courtyard stage.
Contact Andrea Davis CRE for a walk through, or for more details on this rare opportunity.